INITIAL cleanrooms
4 - 6 place Marcel Rebuffat, 91140 VILLEJUST
General activity of the Group
A subsidiary of the RENTOKIL INITIAL Group, the world leader in business services, Rentokil Initial is one of the leading European and French players specializing in the rental and maintenance of professional clothing, PPE, clean room clothing, clothing and clothing. sanitary hygiene equipment, floor mats and linen for catering and accommodation, renovation of work gloves, maintenance of work shoes and waste collection of infectious risk care activities, activity in Ultra -Property (Initial-Cleanrooms).
Products and services offered:
Leader of the market and innovation in Europe with more than 30 years of experience, Initial-Cleanrooms is specialized in the rental-maintenance and particulate decontamination of outfits and accessories for ZAC (clean rooms, clean rooms, controlled environments ...) and for sterile blocks from ISO 1 to ISO 9 (14644-1) and from Class A to D (BFP).
Initial-Cleanrooms handles all aspects of ultra-clean clothing:
• Advice and assistance through its experts
• Study, analysis and audit on site, support in the development of specifications, recommendations in the choice of procedures, textiles and clothing
• Total support of the station held and accessories to allow you to focus on your core business:
Management, investment, scaling, processing, validations, repairs, reform, renewal, logistics, on-site distribution ... in accordance with the requirements and standards required (ISO, GMP, GMP, FDA ...)
• Adaptation of the provision to actual fluctuations
• Secure access to your Customer Area (online) for you in real time (24h / 24h 7j / 7j) to manage and monitor your performance with ease:
- On-site training of operators
- Partner of the quality approach.
innovation: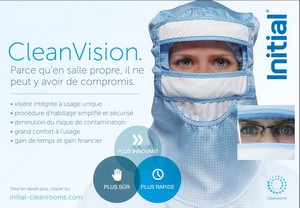 The concept (patented) CleanVision: CleanVision the combination incorporates a disposable visor offering a level of comfort and unsurpassed protection.
The advantages of Cleanvision concept:
• Virtually hermetic system and patented "top-to-bottom" trim procedure (reduces the number of points of contact with the exterior for added security)
• A quick, simple and economical dressing process, due to the design of the suit and the pre-installed visor, no manipulation of the goggles, the time saving can reach 50%
• A concept (patented) combines safety and comfort with this unique design incorporating a removable visor disposable (polycarbonate with special coating anti-fog and anti-scratch)
• Always a perfect view (designed for corrective spectacle wearer)
• A full outfit (decontaminated, sterilized) "ready to use" avoiding the constraints of the harbor, management and maintenance of conventional mask-goggles
• Issue of the range "Millennium" is the guarantee of a single technical background in all your own room
New products :
• The EasyMop system trolley (patented) for cleaning ZAC & sterile blocks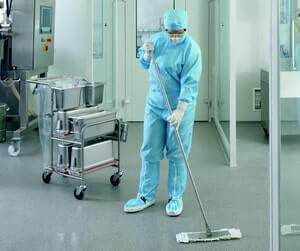 • DistriClean, an automatic system of distribution and collection of your outfits incorporating a secure and seamless IT management tool of all the movements of your stocks.
human and technical resources (Initial-Cleanrooms)
- 5 sites in Europe with more than 2.500 m² of certified Clean Rooms (ISO5 & ISO7)
- 250 employees and more than 850 customers all over Europe
- A research and development center
Quality assurance :
• Our Gold Standard repository fixed uniformly high quality standards and the working and control protocols for all our locations.
• A back-up system and prosecution of pan-European activities plan

Other activities of Initial-Cleanrooms:
| | |
| --- | --- |
| • Decontamination Mats (peelable or permanent) for clean rooms | • Combinations / Blouses / Gowns Disposable Cleanroom |
| • Single use caps (charlottes / caps / hoods / caps) for clean rooms | • overshoes / Overboots disposable cleanroom |
| • Non-woven Masks Cleanroom / Cleanroom | • sterile or non-latex gloves (supplies clean rooms / clean rooms) |
| • Synthetic gloves made of vinyl, nitrile, neoprene ... (sterile or non-sterile) for clean rooms | • Gloves and woven or knitted inner gloves (sterile or non-sterile) for clean rooms |
| • Safety gloves (sterile or non-sterile) for clean rooms | • ESD Products and solutions for clean rooms |
| • Underwear / Pajamas reusable cleanroom | • Tunic / Pants / Jogging cleanroom (reusable sets) |
| • Blouses / reusable cleanroom Gowns | • Combinations reusable cleanroom |
| • Caps reusable cleanroom (charlotte / caps / hats) | • Hoods / Masks Reusable Cleanroom |
| • Glasses for clean rooms / clean rooms | • Shoes / Clogs / Boots reusable cleanroom |
| • overshoes / reusable cleanroom Overboots | • mop mops system for clean rooms |
| • sterilization by autoclave held | • Training and awareness of contamination control |
| • Training in good practices and standards (GMP, GMP, FDA ...) | • Training related to the use of a technique or material |
| • Practical training on site or clean room clean room (safe area) | • Trainers' Training Member of ICCS, IES, Aspec and A3P, Initial-Cleanrooms |
For more than 25 years, Initial-Cleanrooms supports many customers concerned by the control of contaminations: pharmaceutical industries, biotechnologies, cosmetics, electronics, high technologies, advanced sectors, agribusiness, health ...
As a European leader, Initial-Cleanrooms puts at your disposal its organization, its technical and human resources to benefit from the best references, the best practices of each country and the latest innovations in terms of products and services.

Website