LIGHTHOUSE INSTRUMENTS LLC
Science Park, 408 XH Amsterdam - NETHERLANDS
LIGHTHOUSE Is the leading manufacturer and supplier of optical, non-destructive headspace analysis systems and provider of measurement services for applications specific to the pharmaceutical industry.
As a Science-based company, we provide our clients with knowledge and expertise gained from analyzing and inspecting millions of finished sterile drug samples from pharmaceutical facilities around the world.
Applications:
A wide variety of applications have been validated and implemented using rapid non-destructive headspace analysis. Applications include:
Headspace Laser Spectroscopy
LIGHTHOUSE Headspace Inspection Platforms uses a patented laser-based detection method developed with funding from the Food and Drug Administration. Light from a near infrared laser is passed through a container in the region above and below the cap (headspace region). Diode laser sensors are designed to monitor the absorption wavelength of the target headspace molecules to determine headspace concentrations. Vials that do not meet the specified headspace conditions can then be identified and rejected.
LIGHTHOUSE Instruments introduced the laser headspace technology into the pharmaceutical industry more than 15 years ago and has the largest installed base of laser-based headspace systems worldwide.
Products and Services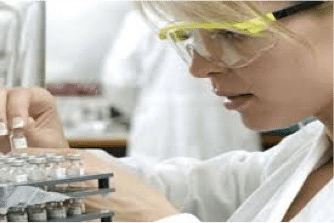 LIGHTHOUSE now offers a range of bench-top and in-line platforms with this patented laser sensor technology. It is possible to lease benchtop systems and automated inspection machines. In addition, headspace measurement servicesare delivered from laboratory facilities in Amsterdam and Charlottesville, Virginia and can be delivered on-site to support your needs.