TSI FRANCE INC.
BP 100 Technology Hotel, Château-Gombert Technopole, 13382 Marseille, France
International leader in measurement technology for over 50 years, TSI Incorporated (www.tsi.com) designs and manufactures precision instruments used for contamination control, respirator tightness tester, exposure monitoring, indoor air quality, ventilation testing, aerosol search instruments , and other key parameters in the environment.
TSI offers a large number of clean room solutions to help customers ensure regulatory compliance, improve product safety and enhance quality. Key products include BioTrak® Viable Particle Counter, AeroTrak® Airborne Particle Counter and FMS Facility Monitoring Software. These products help customers control and classify their clean rooms while finding the root cause of contamination events.
The real-time particle counter BioTrak detects the presence of microorganisms in the clean room.
This instrument combines in one product three important monitoring functions:
Counting of viable particles at a rate of 1 CFM for a range of 0,5 to 25μm, in accordance with the requirements of ISO-21501-4.
Counting of viable particles by laser-induced fluorescent (LIF) technology; TSI patented technology from more than 20 years of experience in the field of military applications for the detection of viable particles that could pose a security risk.
Capture by 37mm collection filter in accordance with industry standards for optically analyzed particles for qualitative laboratory analysis.
BioTrak® viable particle counters can be used as stand-alone portable instruments or as part of online measurements. They detect the incursion of viable particles during critical operations. Connected to the TSI monitoring software (FMS), BioTrak counters provide real-time information on viable particle phenomena, and then provide real-time responses to these events through alarm signals sent to relevant personnel.
The AeroTrak® range of airborne particle meters including portable, portable and remote instruments is designed to meet the demanding requirements of clean room applications. AeroTrak airborne particle counters comply with the most stringent requirements of ISO 21501-4. These particle counters are calibrated with traceable PSL spheres, recognized by NIST, using TSI's world-class condensing particle counting and indexing devices, the recognized particle measurement standard.
Building on TSI's long-standing reputation for accuracy and quality, AeroTrak Air Particulate Counters provide unparalleled measurement levels and data reliability to keep your processes under control. TSI's Continuous Monitoring Systems offer a complete solution for monitoring your clean rooms. FMS Facility Monitoring software is the backbone of a fully compliant facility monitoring system. The TSI Supervisory Software (FMS) is in compliance with the 21-CFR-Part11 standard.
TSI Clean Room Certification products, including AeroTrak Portable Particle Meters, allow you to easily classify clean rooms to ISO-14644 standards. AeroTrak® remote particle counters and other environmental sensors are easily integrated into the plant monitoring system. These systems collect the information required to validate and improve your processes while mastering them.
Learn more about "Reliable Environmental Monitoring Systems by Design"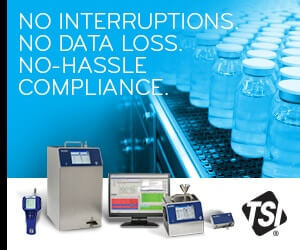 | | | |
| --- | --- | --- |
| Linked In | Website | Facebook |